Jiuh Peng Enterprise Co., Ltd.--Pneumatic tools including air wrenches, ratchet wrenches, drills, grease guns, impact sockets, and extensions
2013/04/30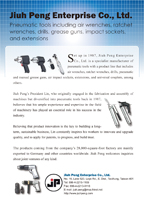 Set up in 1987, Jiuh Peng Enterprise Co., Ltd. is a specialist manufacturer of pneumatic tools with a product line that includes air wrenches, ratchet wrenches, drills, pneumatic and manual grease guns, air impact sockets, extensions, and universal couplers, among others.
Jiuh Peng's President Lin, who originally engaged in the fabrication and assembly of machines but diversified into pneumatic tools back in 1987, believes that his ample experience and expertise in the field of machinery has played an essential role in his success in the industry.
Believing that product innovation is the key to building a long-term, sustainable business, Lin constantly inspires his workers to innovate and upgrade quality, and to apply for patents, to progress, and build trust.
The products coming from the company's 28,800-square-foot factory are mainly exported to Germany and other countries worldwide. Jiuh Peng welcomes inquiries about joint ventures of any kind.